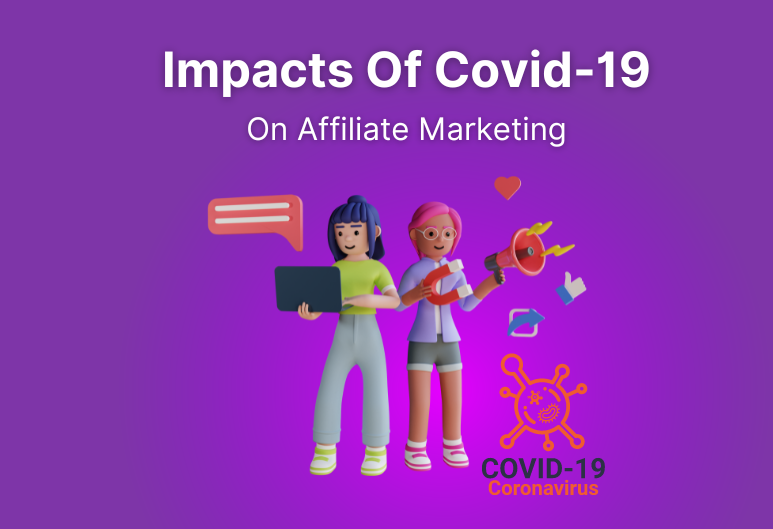 Coronavirus (COVID-19) has infected over 260M people Worldwide (till Nov 2021). However, it is slowing down now. Are you aware of that? We all still are affected by COVID-19 either directly or indirectly.
COVID-19 pandemic significantly impacting each and every industry. The global stock market is crashing which means it is affecting businesses a lot. If you are a business person or Affiliate marketer it most probably affects you too.
I will discuss the impacts of Coronavirus on Affiliate Industry, Some key tips, how can you promote your Affiliate campaigns during this pandemic, and what niches you can focus on. But before we dive into this let me be clear on what you should avoid doing.
Impacts of Coronavirus on Affiliate Industry & Businesses
As we all know that COVID-19 has affected the major supply-chain of physical goods. Masks, Sanitizers, and medical-testing kits demands are high.
Many marketers are trying to buy things at low costs and selling at high prices which isn't the best practice. This will give some amount of money with high profits but it doesn't bring value. I am a strong believer in running for long specifically in the business.
People will remember how you helped them during this pandemic situation. I would suggest everyone invest their money and time for a long race.
What does Covid-19 mean for Affiliate marketers?
Well, the supply-chain of physical goods is disturbed at the major part, the demands of intangible goods are increasing as they are not affected by changes in production and shipment.
As an affiliate marketer intangible goods are the best to promote compare to physical goods. You should focus on the best Affiliate programs offering to promote digital, intangible products, and iterate commissions.
Gaming, streaming platforms, software, online education, screening, and remote sharing apps, movies, and Entertainment, Dating and communication, online course promotion, and selling are the best business to promote as an affiliate marketer.
CPA (Cost per action) model is more effective than anything. Most people staying at home and passes their time on the internet. I will discuss all these industries' opportunities below.
PPC (pay-per-click) data with Affiliate Marketing
Most of the industries reacted to declining sales majorly for the E-commerce businesses (unless you are selling gloves and Sanitizers).
So, it doesn't make sense to spend your money and time on ads for such products and niches. CPC might get high for some industries, but the conversion would not be as per the expectations.
Even Amazon the world's biggest E-commerce store turned off text ads.
What does it mean for Affiliate marketing during COVID-19?
There is a major increase in CPA. So keep your ads up to date with trending niche. Optimize your google ads with a low budget on physical goods and focus more on intangible goods. You can also opt for branded items with high-quality traffic.
Organic Traffic with Affiliate Marketing during COVID-19
Source: Neil Patel
Most of the industries have a huge drop in SEO traffic. But if you are in a Newsagency, Food industry, Medical equipment industry, Gaming. Streaming, Entertainment, and CPA-based business, You most probably see skyrocket traffic. This makes sense for an Affiliate marketer to opt for promotion in such industries.
Organic traffic is a long-term process. Produce quality content and publish them through your Affiliate channels, improve your websites, and engage with audiences. This will definitely help even after this pandemic.
Suggestions for Publisher
1) Now is the time for publishers to know their consumers more and start evaluating their needs and provide them relevant offers.
2) Provide branded product offers and cashback offers, know your customers' brands they likely to buy and provide straight offers for such products.
3) Improve your website or software performance and look inside more on what your audience likes to engage with.
4) Stay more connected with the advertisers, encourage their efforts, and try to solve what resists them. Provide every necessity, they need.
5) Understand your consumers' social behaviors, Where they most likely to be present? like social media, Emails and communicate with them.
Suggestions for Advertisers
1) Focus on being more creative with cashback offers, coupons, and deals and promote them on Affiliate channels. You can kick launch your cashback coupon business.
2) Be transparent about shipping times or if possible offer free shipping (E-commerce products especially).
3) Get suggestions and take the necessary steps provided by publishers, Ask them what are they recommend.
4) Don't put or create a copy of ads or banner or offer with restricted words based on sensitivities nowadays.
5) Focus on trending industries and niches, like cashback, coupon business, gaming, etc.
General Key tips During COVID-19
Stay safe and deal with reality
First of all, Accept the reality and calm down, Follow WHO guidelines, and your respective country guidelines. Don't make the biggest mistake by thinking that situation isn't real. Take the necessary precautions.
As an Affiliate marketer, be thankful for getting an opportunity to work on the internet remotely with no strict restrictions.
Get more knowledge and learn
The majority of people are staying home, it is the time to invest in yourself, grab an opportunity, and learn more. Lots of online courses, platforms, and tools are available for learning.
For Affiliate industry people, it is time to analyze and start testing more and new campaigns and know more about your audiences.
Find what people need now
Finding people's needs doesn't mean taking advantage of people and market situations. As we discussed above to go in the long run. Help people more and fulfill their needs, Offer what they want at an affordable cost and bring values
Many big companies have raised in a past bad period of time. During this uncertainty of time honestly, loyalty, and helping people play the best roles in your future growth.
Focus on social media and find ways to communicate with Affiliates and people
During this COVID-19 pandemic, Engaging with people on social media is a better approach for affiliate marketing and industry people.
Why?
because people are surfing a lot on social media. Post quality content, Hosting webinars, and quiz on social media are great ways to start.
As an affiliate marketer, You can focus on social media as your consumers likely to be present. Doing some live videos and giveaways can let you connect and engage with your customers.
What niches to focus on?
1) Gaming
Youngsters are game lovers and as people are staying at home, they tend to play games a lot. The online games and video industry is expected to be $300 billion by 2025.
Promoting games-related offers to earn a commission is neither going to out of fashion nor the Affiliate programs which promote them.
The promotion of gaming-related products and services during this COVID-19 pandemic can be a Win-Win situation in the affiliate marketing business.
2) Streaming platforms
Streaming is also related to the Gaming industry. Such platforms are well known to gamers mostly.
You can stream your games live on such platforms as Twitch, Mixer, YouTube gaming, etc. Some of them have their own affiliate programs and you can become their affiliate partner. During this time, it's a great chance to promote such streaming platforms and services.
3) Softwares
Softwares are always being high-profit intangible goods. Production and shipments of such products are not much affected by the COVID-19 crises. Problem-solving software and apps are what people looking for, such software must help them.
People want to get stuff and fulfill their needs just with one click as they don't want to go out in this situation. You must look out for Affiliate programs promoting software. It is also a great opportunity to market newly launched apps and software.
4) Online Education
Schools and colleges have been off because of this pandemic. Students and teachers have to transfer to online education. Not only for school and university students but lots of people who are preparing for entrance exams and trying to learn new things are opting for online platforms.
So, why not promoting such apps and websites? Websites like Udacity and lots of others can be promoted as an online education platform and trust me once people get knowledge this brings you value.
5) Movies and Entertainment platforms
None of you aren't aware of Netflix, right? Movies and entertainment platforms have millions of traffic at this time. Even Netflix reduces the streaming quality in some regions because of the huge amount of traffic.
People translate home time into TV shows and movies. so, it's time to drive more sales.
6) Online courses promotion and selling
You must have seen many people selling online courses like coding language courses, photography courses, cooking courses, marketing courses, and many more. There are lots of online learning platforms like Udemy and Coursera.
As I discuss above these people learning online during this COVID-19 pandemic, such courses can be a great money-making niche.
YouTube and blogging websites might be great resources to promote courses.
All these niches and products can be promoted by all under one roof website/software like CashbackOS Where you have all features to promote through social media and can have your own offer page. Also, you can list your products and Affiliate links including payment methods. Take a short video tour here.
Conclusion
Hopefully, this pandemic is about to end. You still have a chance to grab the opportunity and grow your business or start your own affiliate business. Most importantly stay home and stay safe.
As for affiliate marketing, don't get panic over situations and uncertainty. Take it as an opportunity and get the best out of it. Try, learn, and test out more things.
Find yourself where do you stand to get more traffic and bring value.
Maintain social distance and help each other in every possible way.