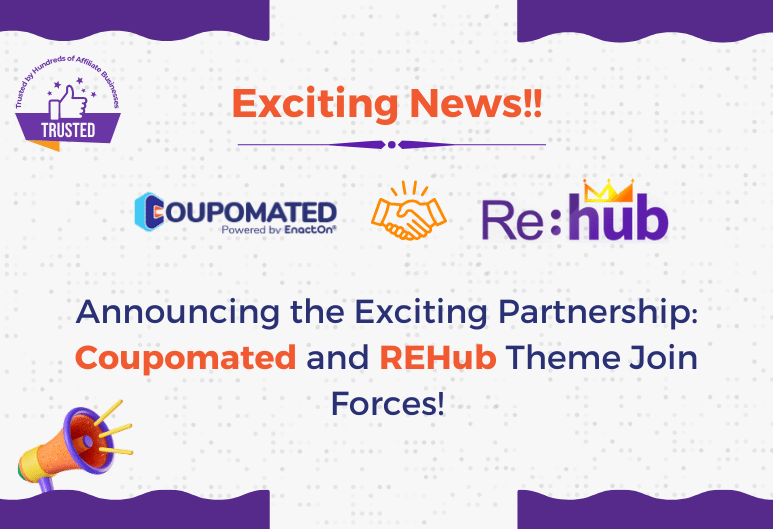 The world of affiliate marketing is ever-evolving, and to keep pace with these changes, businesses need to adapt and innovate. Today, we're thrilled to announce a groundbreaking partnership that promises to revolutionize the affiliate marketing landscape: Coupomated, a leading affiliate coupon data feed API provider, has joined hands with the renowned REHub theme. This collaboration aims to provide seamless integration, allowing users to automatically import stores, categories, and coupons, ensuring they remain updated without any manual intervention.
Why is this Partnership a Game-Changer?
For all REHub theme owners, this partnership is a golden ticket to elevate their affiliate marketing game. Here's why:
Automated Integration: With Coupomated's robust API, REHub theme users can effortlessly integrate and update affiliate coupons, offers, and more. Say goodbye to the tedious manual updates!
Enhanced Features: The REHub WordPress theme, available on ThemeForest, is already packed with features. With Coupomated's integration, users can now enjoy features like bulk import, cashback offers, and more.
Cost-Effective: Wondering about the REHub theme price? It offers incredible value for its features, and with the added benefits from Coupomated, it's a steal!
Support for Various Platforms: Whether you're using the REHub Affiliate theme for WordPress or any other platform, Coupomated ensures seamless integration across the board.
Boosted SEO: With regularly updated content, your website's SEO will see a significant boost, driving more organic traffic.
Deep Dive into Coupomated
Coupomated stands out as the most reliable affiliate coupon API provider. They offer 100% manually verified, tested, and categorized coupons & offers. Their platform is designed to ease the affiliate business, catering to top merchants, affiliate networks, and publishers. With tools like automated deep links and a comprehensive coupon data feed, they have carved a niche for themselves in the affiliate marketing domain.
Moreover, the theme developer has recognized the potential of this partnership and has listed Coupomated on their official documentation, emphasizing the ease of bulk import of offers.
In Conclusion
The collaboration between Coupomated and REHub theme is set to redefine the standards of affiliate marketing. It's not just a partnership; it's a commitment to providing the best tools and features to affiliate marketers worldwide. If you're a REHub theme user or planning to be one, this integration is your pathway to affiliate marketing success. Stay ahead, stay updated, and let the partnership power your affiliate journey!